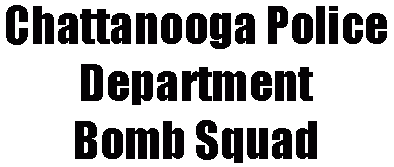 The Chattanooga Police Department Bomb Squad is comprised of full time CPD Officers. The number of officers and their names are not released to the general public for saftey and security reasons. All technicians receive intensive training through the FBI/U.S. Army Explosive Ordnance Disposal personnel in Huntsville, Alabama and through the Bureau of Alcohol, Tobacco and Firearms in Glynco, Georgia. Additionally, the bomb squad personnel attend numerous advanced explosive schools.


Members of the Chattanooga Police Bomb Squad were responsible for the security at the Ocoee River Venue during the 1996 Olympics.


Team members work jointly with the ATF, FBI, Tennessee Highway Patrol, Georgia State Patrol and any agency that requests our assistance.


While on the scene of any EOD related event, the senior Bomb Technician is in charge of the scene. The tech will keep that responsibility until such time when the device or situation in question can be rendered safe or the all clear is given.


Other responsibilities of the Bomb Squad include but are not limited to Dignitary Protection, Explosive Sweeps, Suspicious Package Checks and Security Checks at the Metro Airport.


The unit is equiped with various special equipment to assist in their jobs. This equipment includes: Bomb Van/Trailer, X-Ray Unit, Bomb Resistant Suit, and other special materials of classified nature.

"Initial Success or Total Failure"


---
Click on pictures for larger photo view
---
---
Visit Other Chattanooga Police Sites
SWAT | K-9 | Upcoming Training Classes
---
Other Links of interest
---




You are visitor
to see this page.


---
Web design by NAV 1999